Meet Our Happiness Experts
As a team of dedicated caregivers in Glendale and the surrounding areas who share a commitment to helping older adults live life to the fullest in the comfort of home, we strive to focus on the connections and joys that bring our clients happiness and fulfillment.
We work as your partner in care offering expert home care services, while focusing on providing families with peace of mind, support, and encouragement.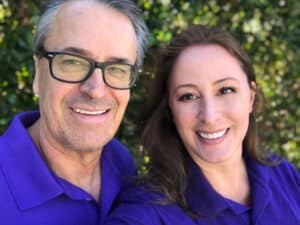 Amy and Randy Harken
President and Director of Happiness
As owners of Happier Home Care, Amy and Randy provide leadership oversight and guidance to their growing team with a combined 30 years of experience in health care. Together, they love being part of the Happier Home Care community, bringing not only comfort but joy to those they serve. As Amy says, "There is nothing better than making people happy doing what they love. Whether it's attending a roller derby, or the simple act of listening to their favorite band, you can't help but feel the joy yourself!"
During a brief but debilitating illness, Amy, herself, required caregiver assistance, so she understands first-hand the vulnerability of having a caregiver in the home. It's important to both Amy and Randy that they provide the same trusted, quality care that Amy wanted herself to each of the clients they now serve.
When not working, Amy and Randy love cooking with their daughter or watching their son pitch a great game of baseball. They also love visiting their older children and grandchildren, as well as spending time with their dogs, Charlie and Chewy, and cat Kona.lea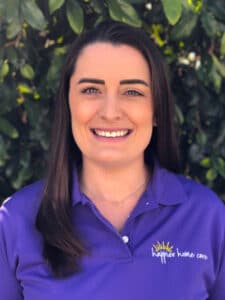 Jessica Teresi
Operations Manager
Jessica considers her #1 job responsibility to ensure that the Happier Home Care team is inspired, motivated, and supported to perform their best and make sure each interaction with a client is a positive one. She is also responsible for the accurate and speedy processing of payroll, billing, and long-term care insurance claims, as well as assisting in human resource efforts. Jessica says, "One of my favorite parts of my job is to be able to show just how much we appreciate our caregivers. They truly are the most caring, and we could not do this without them and their amazing hearts!"
Jessica keeps busy at home with her elementary school aged son. Whether it's running to baseball, soccer, boy scouts, or martial arts, they are busy! A healthy lifestyle is important to Jessica. She loves hiking, as well as serving her community.
Kiverly Juarez
Client Care Manager
Kiverly is responsible for matching our caregivers with the clients we serve. She schedules care to ensure our clients get the necessary help they are seeking from caregivers that they will enjoy spending time with. Kiverly is a natural problem-solver who loves getting to know our clients and figuring out how we can help them meet their goals. She says that she "loves that Happier Home Care is a team that wants to go above and beyond for our clients."
Outside of work, Kiverly loves to spend time with her elementary school aged son, as well as her grandmother. A close-knit family, they enjoy each other's company and commitment to each other, whether at home or enjoying the beach or traveling to explore new places.
To learn more about our leadership team or about partnering with Happier Home Care's expert caregivers in Glendale and nearby areas, reach out to us at 818-651-6679 to schedule a free in-home consultation and for more information about our trusted home care services.