Enjoy Life and Get the Support You Need
Since 2014, locally-owned Happier Home Care, HCO #194700064, has been offering professional caregiving services to help seniors and their families live happier lives. Our goal is to make every day special for the aging adults that we serve!
Watching Mom or Dad Struggle to Safely Care for Themselves Can Be Heartbreaking.
It's difficult to know what to do, or where to turn for help.
Connect with us today if your family is experiencing any of the following:
It's our joy to help people in the later chapters of life continue to write their own story and make a life worth living.
At Happier Home Care, we take the time to discover what makes each of our clients happy; then we incorporate those special activities into the care we provide.
We are passionate about bringing happiness back into our clients' lives, and we dedicate our time not to just providing care, but to helping clients in special ways, like:
Teaching them how to FaceTime with grandkids
Providing transportation to bingo or other fun outings
Creating an enjoyable atmosphere with music and good food
And much more
Through daily, weekly, or round-the-clock care, our friendly and well-trained caregivers offer services to meet your unique needs.
We can help with a wide range of needs, including:
Mobility
Dressing and grooming
Meal planning and preparation
Transportation to appointments or social outings
Specialized Alzheimer's and dementia care
And so much more
Inviting someone into your home or the home of a loved one is a big decision.
You will likely have many questions about whether home care is the right choice for your family, and we understand the importance of being fully informed.
Let us help you by answering some of the most common questions we receive from other families just like yours, such as:
How do I know if my loved one needs care?
What are my payment options for home care services?
How are your caregivers screened?
And more.
Satisfied Clients Means Happier Lives
We are honored by the positive feedback our families have shared about how our care has made their lives happier and more meaningful.
Above and Beyond
"Some time ago, I decided to get my Mother some assistance from Happier Home Care, a certified home health service, that would give her some ease from the daily tasks that were becoming harder and harder as the years progressed. So I decided to have a caregiver come in 4 times a week for 5 hours each visit. My wife and I covered the rest of the time. A kind of break for her.
Soon, this became a 24-hour event as my Mother had fallen several times as her ankle gave out. I called Happier Home Care who immediately took control and made sure my Mother had 24 hours of coverage while we sought out assisted living home for her as being at her home was not an option any more. I would like to thank Happier Home Care for what I would call 'Above and Beyond' the call of duty. This was a no-notice, must-be-done-now situation that was handled with professionalism in a way I would only say could be done by a home health service that has set their level of expertise to the highest."
– Douglas McComas & Patricia Wilhoite
Gentle and kind to those with Dementia
"Caregivers are involved and really care about the patients that are watching over. They are knowledgable and seem to be especially gentle and kind to those with dementia and impaired understanding."
– Lynda Willner
A level of care I have not seen elsewhere
"As an employee, and as one who has worked at other in-home care agencies, I know that there is a distinct difference in how this company cares for their clients. They not only assure that all of the client's needs are met with skilled Caregivers (ambulation, assistance with feeding, companion care), they focus so much more on making the client happy in whatever way they can! Making the client happy could be as easy as helping them to garden again when arthritis usually hinders them, or playing chess with the client who used to pass the time with his friends years ago in the same manner. There is a level of care with this company that I have not seen elsewhere and it is a pleasure to work for them to better the lives of our clients."
– Rhonda Salzman-Cruz, LPN
We hope you'll enjoy reading helpful articles that range from tips for caring for aging loved ones to fun ways to spend the day together. Our care doesn't stop when we leave the home; we are here for you with resources, tools, and smiles every step of the way.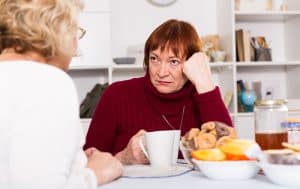 If you find yourself responsible for most of the care for aging parents while your brothers and sisters are distancing themselves from assisting, you are
Read More